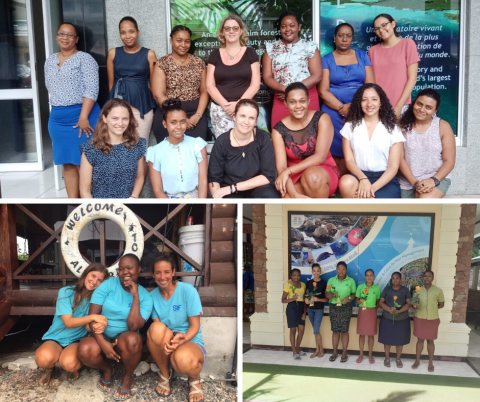 Seychelles Islands Foundation (SIF), was proud to celebrate the principle of gender equality on International Women's Day, 8th March 2020. The majority of SIF's workforce (65%), is female, and the organisation is led by a female CEO, Dr Frauke Fleischer-Dogley.
As a conservation organisation focusing on science-based management, SIF is proud to have such strong female representation in its workforce and in key senior roles. In contrast to some organisations, scientific expertise and technical knowledge is strongly represented among the women employees, with 63% of the graduates working for SIF being female and 52% of the science-based roles being filled by women.
SIF is committed to the principles of equality and inclusion at work, and there is a 50/50 equal split of men and women working in management roles and an equal pay split between male and female graduates who work for the organisation.
Dr Frauke Fleischer-Dogley, CEO of SIF, said 'I am extremely proud to lead an organisation where talented women succeed, shine and reach their true potential. I believe that SIF's focus on gender equality and fairness in the workplace is the basis of our success as an organisation and allows us to achieve our goals as a cohesive and unified team. As a female CEO, I understand the importance of having women represented in senior leadership roles and I believe that SIF provides important opportunities for women to ascend to these positions. I am proud that SIF sets the example it does to the rest of the sector and to science organisations in general.'
The theme for International Women's Day this year is 'Each for Equal'. SIF will continue to strive for equality, inclusion and fairness in its workforce in Mahé, the Vallée de Mai and Aldabra.