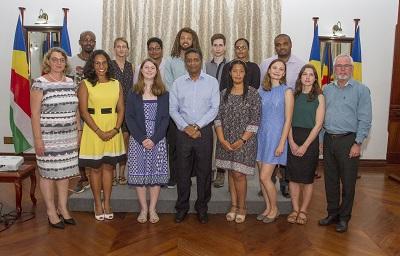 The field phase of the Aldabra Clean-Up Project started on the 22nd February, and the month was a whirlwind of exciting activities and developments. On the 18th February, a few days before departure, President Danny Faure, SIF's patron, invited the Aldabra Clean-Up Project volunteers to State House for a sending off ceremony. SIF's CEO, Dr Frauke Fleischer-Dogley, thanked the President for his personal interest and tremendous support for this project since its launch. Following her short address the project co-leaders April Burt and Jeremy Raguain gave a presentation to update everyone on the efforts to get the project off the ground. The President played the Aldabra song by Patrick Victor, and explained how much it meant to him and inspired him when he visited Aldabra in 2017. The President said that he believed the experience that the volunteers would have on Aldabra, both seeing the incredible wildlife and the destructive impact of the plastic, would mean they would all come back changed and be true ambassadors in the fight against plastic pollution.
In the days before departure the project was featured the in Seychelles and international media. April and Jeremy gave presentation to Commonwealth Parliamentary Association (CPA) in the UK and interviews to Sky Ocean Rescue, and to Seychelles' K-radio. Following that also Kalsey Belle and Craig Francourt, as well as Josie Mahony and Becca Goldberg gave interviews to K-radio and Radio Pure FM. The project had a double page spread in the Seychelles Nation and was broadcast by SBC.
The 12-person team travelled to Aldabra on Friday 22nd February and spent the weekend at the Aldabra station on Picard Island finalising logistics and arrangements for camp. On Monday the 25th they split into two teams, led by Jeremy and April, and travelled to the remote field camps of Dune d'Messe and Dune Jean-Louis. In that first week, from Monday to Friday, the Dune d'Messe team collected 5.3 tonnes of marine debris and the Dune Jean-Louis group collected 4.5 tonnes! That is 9.8 tonnes total, an incredible amount when you consider how light much of the waste is. The number of flip flops has been staggering, and the most challenging items to remove so far have been ropes, nets and other fishing gear that get buried in the sand and tangled on the rough limestone.
The staff on Aldabra have also been working very hard for the project. In addition to all of the preparations to the camps and boat, they have also been transporting volunteers to the camps, joining in on the clean-up for several days at a time, and very importantly delivering treats like ice-cold water, chocolate and fish! Stay tuned for updates next month when we'll know exactly how many tonnes of rubbish this ambitious project has collected…